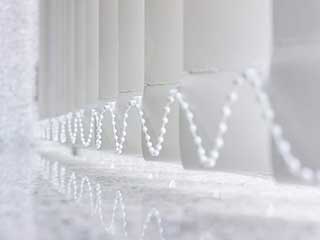 Our different styles of vertical blinds are the perfect way to improve any property. Think about how great your rooms could look when you introduce custom vertical blinds with your choice of colors, materials, and designs. We offer an enormous range of high-quality vertical blinds near you. Our selection includes everything you could need, including motorized vertical blinds. That's why Glendale Blinds & Shades is the go-to window coverings provider in the local area. To see what we could do for you, why not get in touch with our representatives today? We'll be more than happy to provide a free in-person consultation anywhere within the Glendale area.
Affordable Vertical Blinds For Any Room
We're proud to offer an incredibly versatile and attractive product range. We offer an enormous selection of vertical blinds for windows of any size, shape, and design. If you need vertical blinds for patio doors, we have the perfect coverings for you. Our range of vertical blinds for sliding glass doors also provides an excellent way to introduce style and elegance to your home. If you need a little extra control, then our vertical blinds with curtains are a great option. These are perfect for making any room feel a little more "premium", and let you choose between blinds and curtains. We offer window and door treatments from all sorts of materials, including wood, metal, and vinyl vertical blinds. The only limit is your imagination. Speak to our Glendale-based representatives today for more information and a free consultation in person.
Vertical Blinds Installation For Glendale Businesses
Any workplace needs to have comfortable interiors if people are going to spend time there. Employees and customers aren't going to be happy if they have to deal with glaring sunlight all day long, so make sure you have high-quality vertical blinds for your office windows. Our representatives will install vertical blinds that perfectly catch natural light, so no-one has to sit through long meetings with the sun shining in their eyes. Your office will look much more impressive, too, with high-quality custom vertical blinds that perfectly suit your business identity. Contact us today for a free quote. It could be a lot less than you think.
Motorized Vertical Window Blinds
You'd be surprised how easy it can be to add cutting-edge convenience to your property. Whether you're a homeowner or a business owner, we provide essential motorized window coverings for any room. These products are available both with wireless power supplies and as mains-powered units, so they're perfect for any window in any room. We offer our full range of impressive design choices, too, so no matter what style you're looking for we can provide motorized vertical blinds to suit it.
Book a Free Consultation On Custom Window Blinds
We have everything you need to bring extra style and class with vertical blinds to your Glendale home or workplace. If you're looking for the best quality around, at the lowest price point, we're the local blinds makers and installers you need to call. To find out more, book your free in-person consultation today.