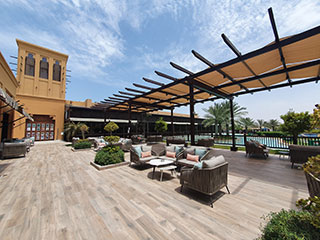 Whether as protective layers overhead or for decorative purposes, patio covers contribute a lot in different avenues. You need patio covers, shades, canopies, or other treatments to make it convenient and comfortable to stay out on your deck or in your hardscape patio. Shades, motorized or of the free-standing variety, give you this freedom with minimal space requirements. Many people love our Glendale custom made motorized patio shades for versatile design and excellent utility. But you can also go with pop up canopy tents, patio umbrellas, and other types of outdoor shade sails and awnings for different sections. Whether for lawns, porches, gazebos, or anything else, our outdoor patio covers and shades can offer you a tremendous selection of choices.
Free-Standing Patio Shades
Starting with the simplest of options, these outdoor canopy options give you a very portable choice. Freestanding patio shades provide a very simple setup and the freedom to move them around wherever you want. With our custom made canopy tents, you can add shade to Glendale area lawns, backyards, courtyards, and any other open outdoor space. Freestanding patio covers provide the freedom to add shade sails and awnings to places with no attachable infrastructure. You don't need to build new frameworks for roofs or columns, because free standing patio covers, as the name suggests, stand freely on their own. With a fantastic range of design and color choices for freestanding patio shades, you can add any decorative pattern you like. This makes for a great way to add vibrant aesthetics to patios, decks, and grasses or gardens.
Motorized Patio Covers
By attaching a remote control canopy to your deck or a paved patio area, you can decide when and how much shade you want. We install motorized patio covers with Somfy smart control systems. This lets you utilize things like Bluetooth and Wi-Fi for communication with your smart electric patio covers. Use your smartphone as a remote control and do away with the need to go fetch the remote when you're sitting in your outdoor lounge area and decide you want some shades. Patio covers with motors provide the most efficient and technologically advanced variation. You can also choose from a wealth of design choices for the Glendale custom-made motorized patio covers for your courtyards and outdoor spaces. With a full range of customizable options, you can always get the best pick for your budget and needs.
Outdoor Canopies, Awnings, and More
Whether you're looking for free standing patio shades, motorized covers for outdoor spaces, or anything else, we'd love to help. Our professional blinds motorization and design experts specialize in making roller shades for outdoors that come with all sorts of features. From waterproof patio shades to motorized pergola canopies and even patio umbrellas and simple shade sails. You can find an excellent shading solution for every need with us. And as leading Glendale patio covers installers, we have special offers to local properties, residential or commercial. Let us know what sorts of patio covers you're searching for and get a free estimate from our highly experienced designers!