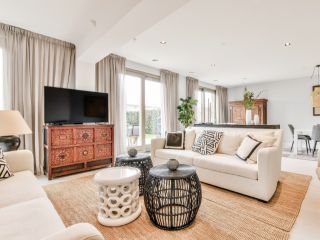 Welcome to Glendale Blinds & Shades, where we offer a curated selection of exquisite draperies and curtains, coupled with state-of-the-art motorization technology by Somfy and Lutron. As your local experts in window treatments, we bring you the following advantages when you choose draperies and curtains:
Benefits of Draperies & Curtains:
Elegance & Versatility: Draperies and curtains offer timeless elegance and can be tailored to fit various interior styles, from classic to modern.
Light Control: Enjoy precise light control, allowing you to create the perfect ambiance in your residential or commercial space.
Energy Efficiency: Draperies provide an extra layer of insulation, helping to reduce heating and cooling costs.
Privacy: Achieve complete privacy with our blackout curtain options.
Sound Absorption: Draperies also excel in sound absorption, making them an ideal choice for noise reduction in your space.
Customization: We provide custom solutions for draperies and curtains, ensuring a perfect fit for your windows.
Our Services:
Motorization: Experience the convenience and luxury of motorized draperies and curtains. Our partnership with Somfy and Lutron brings you top-of-the-line automation for your window treatments.
Free Consultation: Not sure where to start? We offer free consultation services to help you make the best choice for your space. Our experts guide you on how to measure for curtains and where to hang curtain rods for the most stylish and functional results.
Professional Installation: Our team ensures a seamless installation process, so your draperies and curtains look flawless in your space.
Window Treatment Ideas: We provide expert ideas on how to choose wisely between shutters, blinds, curtains, or any other window treatments, whether for residential or commercial spaces, indoors or outdoors.
At Glendale Blinds & Shades, we are more than just a curtain store near you; we are your partners in elevating your space. Contact us to explore the world of draperies, curtains, and window treatment solutions, all designed to enhance your Glendale home or business.