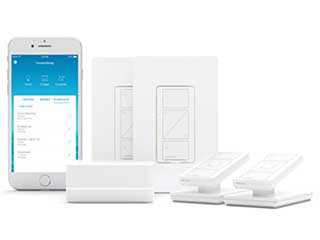 Smart window shades let you save money by using sunlight energy at maximum efficiency. Easily control sunlight levels to maintain temperature levels, brightness levels, and energy efficiency. Motorized shades with Lutron control optimization, offer an amazingly cost-effective solution for custom-made window coverings with remotes. Combine switches and dimmers with WiFi technology to control Lutron shades directly from your smartphone.
Our customers get custom-made window coverings with totally silent motors and a wide selection of attractive designs. The best source for Glendale Lutron shades is our specialists, who will help you find the perfect design style for your home or business. You don't have to hesitate, either, because you'll get a free estimate on motorized shades for your windows. Our specialists will ensure that you get affordable, high-quality shades that make any room a comfortable space to spend time in.
Install Lutron Shades For Glendale Windows, Skylights, and Glass Walls
Made-to-measure window coverings offer complete protection from sunlight whenever you want it. Custom measurements make sure that there are no small gaps to the side or the bottom of the shades, spoiling your comfort and enjoyment. Our Lutron motorized shades are custom-made to fit the surface of the window glass, guaranteeing a snug fit. Easily adjust the position of the window coverings, too, with easy-to-use remote control options.
Sheer or Blackout Smart Motorized Shades
You can optimize energy efficiency with motorized Lutron shades, and you'll get a great-looking product into the bargain. Lutron's smart shades integrate seamlessly with brightness and temperature controls, providing total hands-free sunlight protection for your property. Lutron shade solutions offer the most advanced window covering technology on the market.
Variety in Motorized Shading Solution Designs
There's no limit to the types of windows where Lutron shades are a great addition. Large glass walls are no problem, and neither are bedroom windows. You can pick from a massive range of elegant designs to suit your interior decor, too, meaning your room will look great as well as feeling great.
Better Privacy With Automatic Window Coverings
If privacy is your primary concern, then Lutron blackout shades are the perfect pick. Prefer a softer, more diffuse effect? Then sheer shades are the ideal material to choose as your new Lutron window coverings. These will cut out UV light and glare, while still illuminating your room beautifully.
Top Lutron Shade Installers Near Glendale
Book your free consultation appointment today to find the perfect motorized Lutron shades for your business or home in the Glendale area. Take a look at all the options available to you, and get a no-obligation estimate from our specialists. Call anytime to book the free estimate appointment in your local home or office.