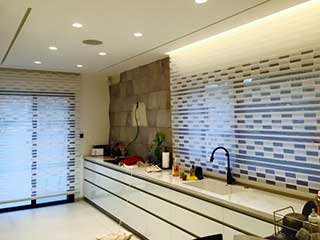 Your home is your special place. If you're living alone, it's your one place where you can feel safe and comfortable. It's your sanctuary from the crazy world outside, your place of refuge. If you're living with your family or your special someone, your home is where you enjoy life in each other's company. Much like everything else, your home requires a little bit of love and attention. You can do this by doing some home makeovers with the addition of new window treatments.
Your Elegant Window Blinds
Your windows can be likened to your home's eyes. You can view the outside world through them from the inside, and people on the outside can peer through your windows to glimpse the inside of your home. Much like how your eyes add and enhance your facial features, so too do the windows add beauty to your home. One of the most effective ways to add eye-catching elegance to a room is with the use of roman shades. These roll up shades come in a variety of colors, fabrics, and designs. You can have them in light pastels or darker shades. It all depends on the ambiance you're trying to achieve. For a simple yet striking effect, you can go bold on the color schemes and choose a color that contrasts your walls. If you're going for muted tones, then go for window coverings that are similar to your walls. The fabric or material also plays a very crucial role in the effect you get with your makeover. Light fabrics will make your living spaces seem breezier, while heavier fabrics can give it a more classical look.
The Custom Route
Since every house is not built from the same mold, you need to get custom window treatments if you wish to make your home look special. This is because ready-made options may not fit your windows perfectly. They could either be bigger or smaller than is needed. These discrepancies can be easily avoided by going with custom window blinds. The great thing with getting these custom-made window treatments is that you have your say on everything. You are given the opportunity to tailor make your shades to your specific taste, and thus you have full control over the resulting look you are going to achieve.
Let Us Help
Our experts here at Glendale Blinds & Shades will be more than happy to answer all your questions and to provide the consultation you need. We want to help you make your property look exactly how you want it to look, and we're happy to provide free color samples in order to help you make a more informed decision. For more information and for a free consultation, give us a call today.