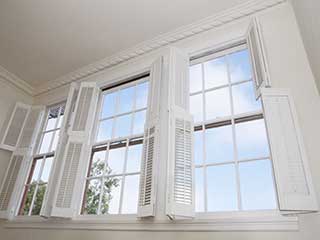 You can keep your home comfortable and looking great at the same time with our range of custom plantation shutters. Choose these high-quality window coverings for an easy and effective way to minimize glare and maximize privacy. Our selection of plantation shutters gives you affordable options for improving your home, with plenty of attractive design options on offer. Install wooden shutters for that rustic effect, or protect your windows with custom exterior shutters. Contact our Glendale team today for your free in-person consultation.
Cost-Effective Wooden Shutters
Wooden shutters are a very popular choice amongst homeowners, thanks to the many benefits it provides. When you choose custom wooden shutters for your home, you'll get window coverings that are both tough and easy to look after. Wood is hard to damage, and can also be repaired more easily than alternative materials such as plastic. Durability isn't the only benefit to choosing custom wooden shutters though. Our incredible range of different designs means you can easily find wooden shutters in the perfect finish for any home. Could your home benefit from these high-quality window coverings? Find out today by contacting our Glendale window shutters experts for a free consultation.
Motorized Plantation Shutters – Outdoors & Indoors
Yep, although motorized, our plantation shutters can fit inside your Glendale property or outside it. You decide where you want your custom window shutters installed. The benefits of motorizing your window treatments extend far beyond the "cool" aspect. It's far more comfortable to control your plantation shutters with a remote or by using your smartphone or tablet. And that are more options besides, like integrating with your smart home system (i.e. voice commands) or using special sensors to create self-adjusting plantation shutters that will move their slats according to the temperature and brightness levels. As for exterior shutters, you can choose to get them installed in your patio, gazebo, or rolling down your deck. There's no limit to the applications when you think about it. Consult with our team for free to see what available options you can choose (and customize).
Top-Quality Shutters For Windows
There's nothing more appealing than high-quality window coverings. These will tie into the decor of any room effortlessly, bringing amazing design elements to your property. Plantation shutters make an excellent choice because they're a long-lasting investment into your home. These window coverings will stand the test of time and will look just as good in 20 years as they will when they're first installed. With our range of low-cost plantation shutters available in your area, what have you got to lose?
Exterior Shutters Protect Your Home
Add a touch of class to your Glendale property by installing high-quality shutters for the outside of your windows. These window coverings provide the same level of natural light control and privacy that indoor plantation shutters do, but also bring additional benefits. Custom exterior shutters protect your windows, keeping dirt and debris away from the glass. These coverings also give you extra space inside the room, so you can easily fit a set of drapes, curtains or blinds internally as well. This provides total control over light and privacy so you can get the most out of your home.
Custom Plantation Shutters In Glendale
We provide the best customer service for custom window shutters in Glendale, with free no-obligation consultations at your property. This helps us ensure you get the perfect new plantation shutters. Find out how little it could cost to improve your home with these top-quality shutters today. Simply get in touch with our local team and we'll arrange a free estimate for you.