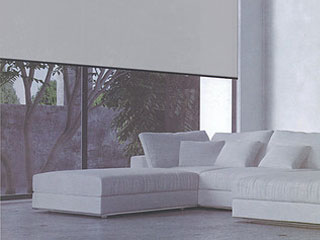 Functional, beautiful and perfectly customizable, roller blinds make fabulous window treatments for any room of any property. Looking for an easy way to add ambient light or privacy to your living room or office? These window coverings will be a perfect fit. All of our custom made blinds come from top brands and adhere to the relevant child safety regulations. There are cordless options as well. Our roller shades boast enhanced durability, which the five-year warranty they come with certainly reflects.
High Quality Materials
Our roller shades are made from strong durable fabrics and feature an aluminum roller that makes opening and closing them effortless. Ultra-precise cutting makes our roller shades made to fit. It also helps keep them from fraying as time goes by. You can expect our roller shades to remain in good condition and work excellently for a long time to come.
Adding Style Without Being Overbearing
One of the main benefits of roller shades is their ability to complement a room's decor without being overbearing. Their low-profile appearance makes them a perfect way to improve an office's look without drawing too much attention. There's a lot of versatility too, as the amount of light these shades will let in is completely up to you. The same goes for privacy.
Let Us Help You Decide
Our company has a wide range of roller shades to offer you, with diverse design options that can find a match for any room. With us, you're guaranteed to find the perfect custom blinds for your windows and even for your patio doors. This does not mean that you will be overwhelmed when it comes to making a choice. Our team here at Glendale Blinds & Shades provides free consultation appointments, during which our experts will happily answer all your questions. Factors such as size and length and width ratio are completely irrelevant. You will get exactly what you need, custom made. Rest assured that with our help you'll have an easy time deciding between all the different options.