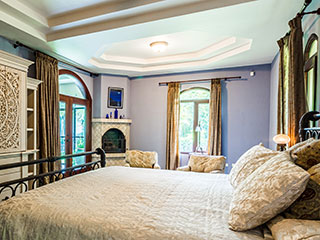 For optimal sleep, you need the windows covered up and keeping all light at bay. That means sunlight, street lamps, and any other type of light that can disturb your dormant state. For privacy, you can also use these opaque window coverings to ensure nobody can spy on you from the other side. Blackout curtains provide perfect solutions for sleeping conditions and privacy. And in custom sizes and designs, you can easily get blackout window curtains fitted for any Glendale area apartment, house, office, or other. With a free consultation from our blackout curtains interior design experts, you can pick and choose features and looks that best suit your taste.
Find Blackout Curtains For Bedrooms
The most obvious and common use for blackout window curtains sees them utilized to block sunlight early in the morning and at night. When falling asleep, our brain becomes hypersensitive to light, as it's its mechanism for knowing when to wake us. However, in the modern world, the nightlife that most people lead can see them wake up very groggy and far too early. With blackout curtains on Glendale bedroom windows, you prevent needlessly stirring from your sleep. The complete darkness created by blackout curtains allows you to rest better, which makes you more energized during the day. The wireless motorized draperies and window curtains we make let you customize each feature and the total aesthetic too.
Motorized Curtains – Blackout Draperies With Remotes
A great way to enhance the already functional use of blackout curtains is with wireless motors. Choose the function or the time you want your motorized draperies to close or open, and then set it and forget it. Or, if you already got into bed and realized you forgot to draw the curtains closed, all you need is to press a button. Motorized blackout window curtains give you a very quick and useful way to control indoor light levels. This works for more than bedrooms too. Blackout curtains with remotes for Glendale living rooms and dens let you enjoy the TV watching experience at a maximal effect. Remote control motorized draperies with blackout materials create a high-tech covering solution great for all sorts of windows. With custom made curtains, blackout, or other varieties, you can add decorative looks to rooms while also boosting functionality.
Glendale Blackout Curtains – Fast Installation
With the new collection of curtains and draperies we offer, getting new covers for your windows takes very little time. You start by meeting with one of our interior design experts to discuss which materials and patterns you best like for your window curtains. Blackout and other opacity levels can all work, and the choice is completely up to you. Then we talk about motorized curtains for windows and different wireless remote control solutions you can pick. Ultimately, you customize your new blackout curtains set however you want. We provide a free estimate on everything and you approve each feature. Then, with a very short turnaround time, our curtain installers return with your new blackout window coverings and set it all up. So give us a call anytime and book a free consultation on custom made blackout curtains for your Glendale windows.