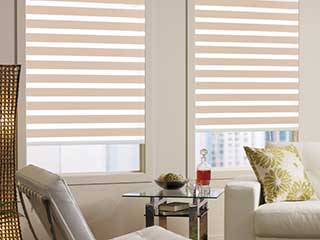 With such a wide variety of different types of window shades and blinds on the market, it can be a little difficult to find the ones that are perfectly suited to your home. When buying window treatments, one should be concerned about their functionality, style, cost and light filtering capabilities, all four of which are qualities that are brilliantly expressed with layered shades. So what exactly would you get when choosing this marvelous product?
Beautiful Modern Designs
Aside from allowing you to control light flow and ensuring privacy, these window coverings are stylish and visually pleasing as well. Their thick slats that have modern, stylish features can complement any home or office space, and they can add to a particular sense of style that keeps straight lines in modern structures, which makes them a great the interior of any room.
Superior Functionality Options
Layered shades can allow for greater light filtering and can also have great room darkening capabilities, which they can help you maintain privacy without compromising your view for the outside world. Their designs make them easy to operate and simple to maintain, meaning that they do their job without being intrusive or inconvenient in any way. The shading they provide will contribute to your home's energy efficiency while giving you complete and utter privacy whenever you require it.
Strong and Versatile Materials
Whether in the bedroom, bathroom or as kitchen blinds, this type of window treatment is made of strong and versatile materials that are reliable and cost effective to produce. This means that they are not only good at providing constant protection from sunlight and privacy but are also affordable and easy to maintain. They can be made of materials like polyester and nylon and can also create an alternating, zebra-like, light filtering pattern when they use sheer shades of different colors.
Need Some Help?
Feel free to contact our team at Glendale Blinds & Shades for free consultation color samples. Our experts can help you take every factor into consideration and ensure that you find the most suitable window treatment options for your home or office.