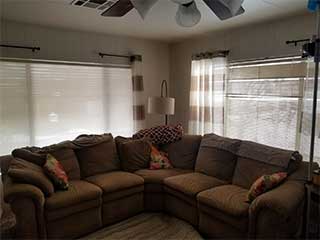 Can you feel comfortable in your home if you don't have enough privacy? You might think you already do, but you'd be surprised at how easy it can be to see into a property. For example, if you choose shades made from a thin material, then when the lights come on at night, it can be possible to see through them. It's essential to make sure you have the right window coverings in every room in your property. Here are our top choices for blinds that give you great privacy. These window treatments can work great for any Glendale home or commercial business.
Choose Blackout Blinds For Total Control
When you need to be 100% certain that people can't see in through a window, these are the window coverings you need. Custom blackout blinds do precisely what the name suggests, and don't let any light through at all. Even if you have bright lights on inside, no-one will be able to see through these treatments. Thanks to our wide selection of different designs, you can also choose custom blackout blinds to suit any decor.
Roman Shades Provide Excellent Privacy
Choose these window coverings when you need a simple yet stylish solution. Thanks to the straightforward design of roman shades, you'll find them to be a great way of preventing prying eyes. They are quick and easy to operate, allowing a room's occupants to cut out onlookers in a split-second. In addition to this, your new roman shades can come in many different materials, including denser fabrics, to provide enhanced privacy.
Venetian Blinds Add Privacy With Just A Twist
Switch any room from warm sunlight to total privacy with just a simple twist of the control rod. Our range of custom Venetian blinds is ideal for any room in the house. Thanks to the unique design of these units, you'll find it extremely easy to make your bedroom, living room, or home study a completely private space. All the materials used in these window treatments are opaque, from fabric to metal and vinyl, so you can choose any design you want. With vertical blinds, you can add style and utility to any room in your Glendale property.
Plantation Shutters Can Keep Out Prying Eyes
Fitting a set of custom plantation shutters is a great way to provide your home with extra privacy. Not only that, but these window coverings are an easy way to add value to your home. These window treatments are easy to use, requiring nothing more than a quick touch to get the perfect combination of light and privacy. Thanks to the many different colors and finishes you can choose from, a new set of plantation shutters could be the ideal way to improve your Glendale home.
Vertical Blinds - Suitable For Large Windows
Large windows are often hard to cover up adequately. With our range of custom vertical blinds, though, you won't have this problem. Get perfect privacy from your sliding door or large window and never worry about people looking through again. These treatments come in materials like metal, wood, and fabric, as well as a whole range of different colors.
Get a Free Quote
Contact Glendale Blinds & Shades and schedule a free estimate to get expert consultation on the best privacy blinds for your needs. Choose any of the above or any other custom window treatments you prefer.