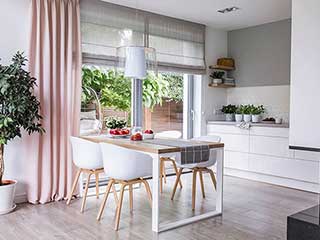 Our company is a local business that specializes in providing top-quality custom blinds and shades for residential homes and office buildings. What our team offers is a fully made-to-order service that guarantees satisfaction in every situation. Whether you're looking for the convenience of motorized shades or the elegance of wood blinds, our experts will ensure you get the best window treatments available today, and that you're 100% satisfied.
Every Room Is Different
Our team understands that there's no "one size fits all" approach when decorating your home, and it's hard to know exactly which blinds are going to be right for you. That's why our team goes the extra mile when helping our customers choose a new set of window coverings. Our focus isn't only on Glendale. Our company can help home and business owners in all the nearby areas find top quality shades for their windows. In fact, we even provide free consultations at your home with no-obligation. This gives our experts a chance to really understand your requirements, discuss the different options with you and measure your windows so that your new blinds will be a perfect fit. Given all this, it's no wonder our company is considered one of the best window treatment suppliers and installers in California.
Finding The Right Fit
Controlling the natural light that filters into your home or office is exceptionally important. Unwanted glare and too much direct sunlight can cause headaches, increase indoor temperatures, and make it hard to feel comfortable in your own property. In fact, those harmful UV rays that pose a real danger to our vulnerable skins can also damage your furniture with prolonged exposure. Finding the right window treatments for you is essential; should you consider light bamboo shades, or would vertical blinds be more appropriate for a particularly large window? Thanks to the wide range of designs and styles that our company provides, you'll never struggle to find the perfect match.
Beautiful Window Treatment Options
Of course, apart from control sunlight and providing UV protection, your window coverings must also be a great match for your interior décor. That's why our team offers an enormous range of colors and materials for you to choose from, from sleek, minimalistic designs to light and airy wooden blinds. All of our products come with a 5-year warranty, too, so you can be certain you're making a wise investment that will last for a long time. With our professional blinds installers, you can rest assured that your new window treatment will be fully functional from day one.
The Best Window Treatment Experts Near You
Our team here at Glendale Blinds & Shades is confident that our products are the best ones around. If you're looking for top quality window coverings made from durable materials, then you found the right company to call. From motorized drapery to insulating cellular shades, our wide selection of products has something for everyone.
Get In Touch With Us Today!

5-year Warranty

Custom Made Products

Free Consultation Appointments
Professional Installation Services