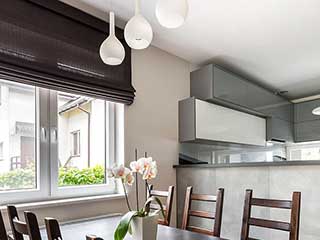 Roman shades are often the solution for those who are looking for a convenient way to control the natural light that gets into their homes or offices, without compromising the privacy aspect. Being one of the most popular choices for residential blinds, these products provide the necessary functionality you'd expect them to, while also adding a certain aesthetic quality to any room they're installed in.
Compact and Stylish
Unlike most other types of blinds, the Roman variety layers over itself when it is opened. This means that you will not get those ugly lumps and imbalances that often occur with other types of window treatment options. For this reason, many homeowners choose this variety, purely for the modern and compact sense of presentable and tidy style they bring to any room. Just like curtains, they can exhibit a wide range of design patterns, mixing and matching many different colors and shades.
Energy Efficiency and Functionality
The materials Roman shades are usually made of are strong and cost-effective. As a result, not only can it be relied on to stay perfectly intact for a long time, it can also make for affordable shades. Another major benefit of Roman shades is their ability to provide a little extra insulation, making any room that houses them more energy efficient. They'll be able to prevent hot air from escaping through the windows, and instead force it to circulate through the room. Another benefit they present is their minimalism. Unlike curtains, which can overwhelm a smaller window, roman shades can be perfectly fit to suit the required dimensions and will be able to provide color and lavish decor without feeling overbearing.
Contemplating What To Get?
Our team here at Glendale Blinds & Shades will be happy to consult you further on this type of window covering and the different advantages it has to offer. All our products carry a 5-year warranty, and we'll gladly answer any question you may have and provide free color samples to help you make a decision.