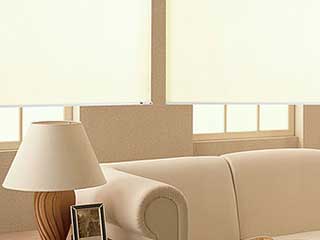 Choose from our range of high-quality blackout blinds to bring unbeatable light control to your property. We offer custom-made blinds built from the best materials around, in a huge array of different styles and designs. Choose everything from the material and color of your blinds to the method of operation. Our diverse range of products gives you high quality at a low price point. In fact, you can find out exactly how reasonable our prices are by scheduling a free no-obligation consultation with our Glendale blinds installers. Our selection of room darkening window treatments can offer something to every local home or business owner. Get in contact with Glendale Blinds & Shades today to find out how we could improve your property's utility and décor.
Choosing The Best Blackout Blinds
We're proud to offer some of the best custom blackout blinds on the market. Thanks to our fully-customizable design process, we offer window treatments for every single room in your property. If you're looking for the perfect blackout blinds for french doors in your living room, we can provide them. Just as easily, our range of blackout blinds for skylights gives you all the options you need to control natural light from overhead. We even offer window coverings for commercial properties, and our blackout blinds for office windows can reduce discomfort and increase productivity at your workplace. For homes and businesses across the Glendale area, we're the top choice when it comes to window treatments.
Low Prices On Custom Blackout Blinds
We provide the best range of custom blackout blinds you'll find anywhere. We believe that these coverings are an essential part of any property because blackout material gives you total privacy when you need it. This is crucial if your neighbors' windows look into your living room or bedroom, for example. It's also essential if you work at night since you need to be able to reliably keep out unwanted sunlight. Our blackout blinds for bedrooms are the perfect way to get total control over light coming into or out of a room.
Motorized Blackout Blinds in Glendale
Modern automatic window coverings are a huge leap forward in terms of convenience. Not only can you control your blinds easily from a central panel or with a remote control, but you can even use smartphone apps as well. This means you can easily alter the position of your living room blinds without having to find the remote. In the same way, you can sweep open the blinds of your bedroom without getting out from under the covers. All of our motorized blackout blinds can be produced in wired and wireless power options. This means you'll never struggle to find the perfect remote control blinds to fit any window.
Free Quotes On New Blackout Window Coverings
It's not always straightforward to decide which blinds are best for your property. That's why we offer low prices on all of our products, as well as free consultations at your address. If you're based in Glendale or the surrounding area, our dedicated team can come to you and give you all the help you need to pick the perfect blackout blinds. Schedule your free appointment today.