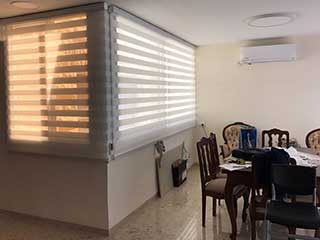 Why would you bother manually drawing and opening your roller shades when there's a simple automated solution available? Save yourself the time and the hassle of struggling with the cords and strings and just get the motorized option installed.
Customizable & Easy To Use
We can custom fit the motorized roller shades to each of your specific windows, no matter how oddly they may be shaped. This type of window treatment can be made of cloth that can be changed to suit your specific needs. These shades start rolled up and unfurl downwards, descending until they cover the entire window. They can have a patterned design that offers light reduction or complete blackout, depending on what you're looking for. The motorization means that there won't be any more need for those annoying strings, and operating the shades will be as simple as pushing a button or setting a timer.
Reduce Energy Consumption
There are many reasons to consider upgrading your property's window coverings, but one of the biggest benefits that modern options can offer is energy efficiency! You'll be spending much more on air conditioning during the summer if sunlight is able to constantly pour inside the room and raise the temperature. During winter, the opposite will happen. There will be nothing keeping hot air from escaping through the cold glass panes. However, with custom made motorized roller shades, no matter how out of reach or strangely shaped the window, you'll be able to ensure the shades are fully drawn when they need to be, in order to keep out the heat or trap it inside. While the motorized function will require some energy to operate, you'll save a lot more by preventing heat loss and taking some of the load off your HVAC unit.
Maintaining Security and Privacy
This may be surprising, but shades also add a layer of security to your home, as they can prevent outsiders from peering inside and eyeing your belongings. Having the shades on an automated timer will give the impression that someone is home at all times, even if you're actually away on vacation. It's also a great way to maintain your privacy without you having to remember to do it yourself.
We'll Handle It All
You can rest assured that our experts at Glendale Blinds & Shades will see to it that every step of the process is carried out with great precision and care, from measuring the dimensions of the windows to completing the installation. We'll be happy to answer any questions you may have and to provide all the information you need about custom made motorized roller shades or any other related subject. Give us a call today.